2020 Year in Review
At Celsius our hard work over a number of years came to fruition through 2020. Firstly our Sales division saw a doubling of turnover achieving 135 sales as opposed to just 78 in 2019. More importantly we welcomed new residents into Vic Quarter throughout the year and have thoroughly enjoyed seeing the VQ community thrive. Full credit to the team for achieving 54 five star reviews. Bo Xiong had another baby and Matthew Smith joined his "work" brother Steve Smith making a formidable team. We also sold all but one apartment at Lucent Claremont with the last sale made in January making Lucent the first project at Celsius to sell out prior to titles issuing in the last 6 years. Park Terraces in Shenton Park has commenced construction following 10 of the 12 terraces being snapped up inside 3 months.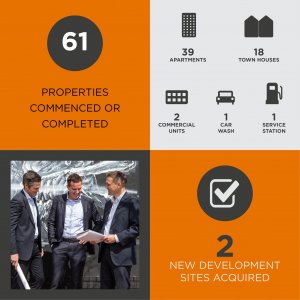 Our Development division had another strong year completing a couple of projects and acquiring 2 new sites. Lucent Claremont has been completed on time and on budget and we can't wait to welcome the Buyers into their new home through February. Following the success of Lucent Claremont we are excited to have secured a site in Subiaco where the team have just lodged plans for approval of a building very comparable to Lucent in both size and luxury. Our North Perth project continues its planning journey and we look forward to bringing it to life in 2021 too. We are also very pleased to have entered into a JV with Rocky Bay to develop SDA housing which we will retain with Rocky Bay long term.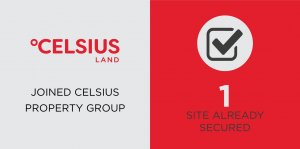 Celsius Land was formed and Brenton looked at close to 40 acquisition opportunities taking a cautious approach to a strongly incentivised market, ultimately securing our first site in Champion Lakes in what will be a 65 lot subdivision. We have also commenced a number of project management roles and taken a keen interest in regional opportunities both to the South and North.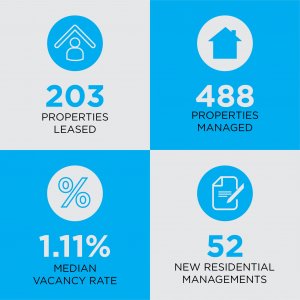 Our Property Management division brought on 52 new managements, leased over 200 properties and maintained an office vacancy rate just over 1.1%. Certainly what we are most proud of is how our team navigated the Covid period with tenants and landlords alike and the introduction of the State of Emergency. For many months some of our key Clients faced some very stressful situations and our team worked diligently to support all parties. Unfortunately our team also experienced a significant increase in anti-social behaviour by a few and keeping everyone safe is our number one priority.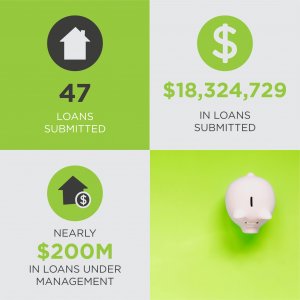 Donna-Lee increased our finance applications through 2020 by nearly 50% whilst assisting many Clients negotiate reduced interest rates and repayment holidays. In strata Kylie Wigham has been instrumental in bringing Vic Quarter online and is preparing to commission Lucent next month.
In 2020 we saw our team grow, not shrink. We welcomed 4 new staff members whilst saying good bye to Danni who has returned home to Ireland to be closer to her family.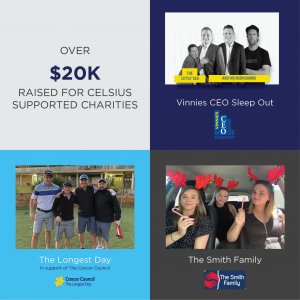 Our team took on a number of charity initiatives including completing the CEO sleepout on the streets of Scarborough and playing 72 holes of golf in a day for Cancer Council. Whilst we are proud of the funds and awareness raised we can and will do so much more in 2021.
No doubt you will see much more of Celsius in 2021 and we are really excited and looking forward to all that it brings. We wish all of our Clients, staff, family and friends all the very best for the new year and would love for you to reach out to us if there is anything you feel we can assist you with.
Kind Regards